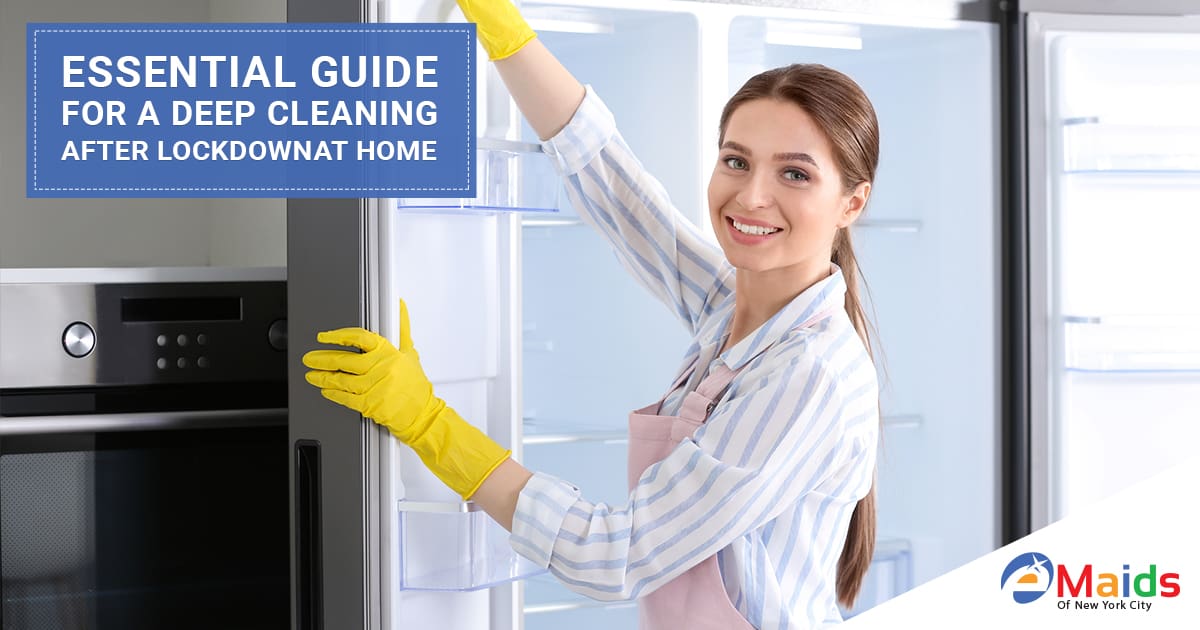 NYC is slowly re-opening business, and people are starting to go out more. The pandemic isn't over, but perhaps you won't have time to clean your home like the previous months in lockdown. So, prepare your home cleaning schedule with this helpful in-depth cleaning checklist. Most of these tasks are covered in our services. If you're interested, contact us here.
After all the crazy weeks of panic buying and long afternoons of disinfecting groceries, we can assume that your refrigerator isn't in the best conditions. Take out all the food and start scrubbing the interior walls and corners gently. Use baking soda to eliminate bad odors.
Inside the stove and oven
There are lots of tips and hacks for cleaning a messy oven. Generally, hot water and dish soap are recommended, and it's better if you can leave the mix to rest over the surface. Also, use baking soda or/and degreaser. Check more details here.
Before scrubbing the interior of your microwave, use white vinegar to loosen the dried gunk. Then, remove the glass container and clean as dry as you can, but using soap.
Backsplash can be made of very different materials, from plastic to stainless steel, and the cleaning methods could vary. For example, ceramic, glass, and plastic can be cleaned with a multi-purpose cleaner and a sponge, but steel needs more gently options to avoid scratches.
Your bathroom and bedroom will look nicer through a spotless mirror. For this chore, you will need a soft cloth, ideally a microfiber, and a mix of water and vinegar. Spray a thin layer over your mirrors and wipe gently.
Stainless steel sinks don't need more than vinegar and dish soap to look and smell like new. You can also use baking soda to eliminate bad odors.
Spiders tend to work harder on summers. There are various methods to remove cobwebs: you can simply sweep them away with a broom or use your vacuum cleaner. Also, spray some peppermint in the corners of your house to drive away spiders.
Once a month, dust your ceiling fans to prevent all the mess from being dispersed in the air. 
Windows can be complex to clean because they have lots of parts. Curtains and drapes have to be washed, the glass needs to be wiped with a gentle disinfectant, and the small rails are challenging to deal with, but your vacuum might come in handy. 
Keep allergies at bay and also prevent germs and viruses from entering your home by dusting and regularly cleaning your rugs and carpets. Use your favorite disinfectant along with water and soap to keep them in excellent condition.
Speaking of dust, have you checked your air vents? Your home needs proper ventilation to stay fresh during the hot days of summer, so change your filters and get rid of all the dirt and dust from the vents.
Your home will be ready for summer if you cross out these cleaning tasks from your list. Take care and enjoy the season!