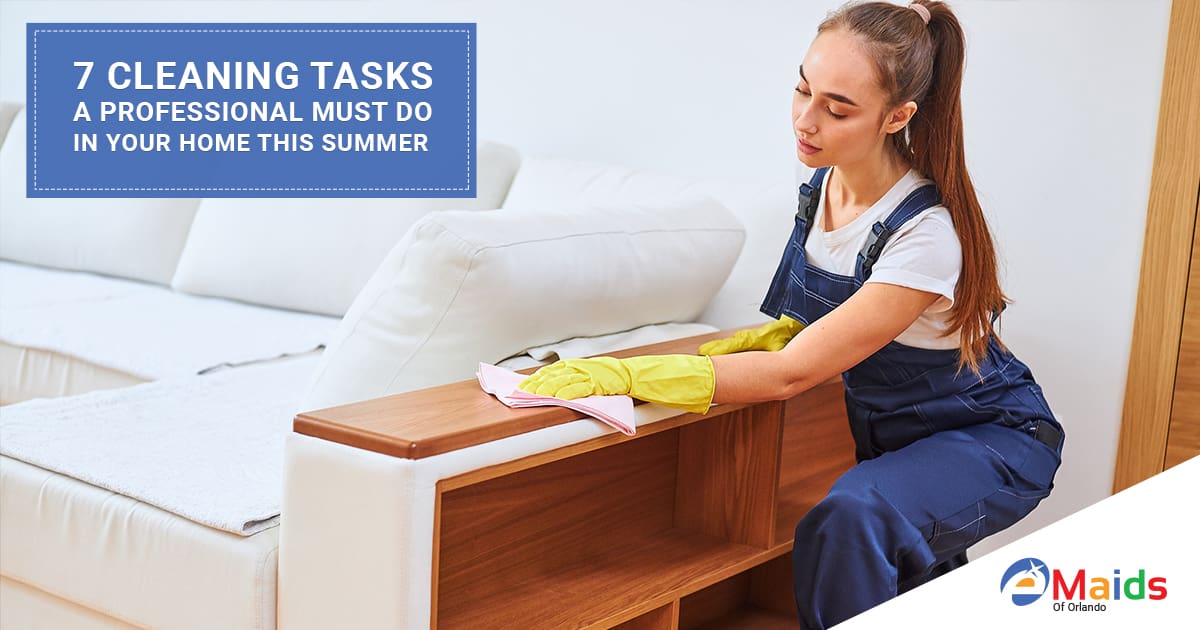 During the pandemic, anyone should expect some house cleaner etiquette and preventive measures to avoid spreading. Also, cleaning companies should offer strategic services to eliminate germs and viruses from homes. What should house cleaner clean? In this blog, we list the essential tasks, considering that its already summer, and every home should be protected against mold and heat. Keep reading and find out! Also, consider eMaids as your next cleaning company and book one of our services here.
During summer, white curtains are the best because they block the sun more than dark colors. The constant sunlight of the summer can heat drapes and your house might as well raise its temperature. Before the hotter days, change your curtains for clearer ones. Also, if you usually open your windows, the wind has already messed with your drapes, so change or clean them regularly.
Summer days could get humid in some regions, and this, combined with our own sweat indoors, can lead to the formation of mold in walls and appliances. Avoiding moisture in specific areas of the house is essential to keep the mold away. Check your dryer machine, dishwasher, wardrobe, and bathroom for signs of it. Open your bathroom window and your appliances, at least for a couple of hours to let the air in. Erasing mold can be easy if it's moderate, just use vinegar or your favorite disinfectant. Your maid should know what to do.
Deep cleaning the bathroom
Because everyone takes showers a lot in the summer, humidity can easily stick in your bathroom walls. Don't forget to dry and clean your bathroom at least once a week when the hotter days are here. A good tip is to let the bathroom's window open.
Hot weather makes the food go bad faster. Your kitchen's trash bin might get smelly if you don't change it often. A good piece of advice is to spray your trash bag with a mix of white vinegar and water to eliminate bad odors caused by rotten food. 
We are still dealing with a global pandemic here, and disinfecting our floors properly is an excellent habit to practice. This summer, many people will take quick trips, maybe locally, to enjoy a day or two of summer vacations. Be sure not to carry germs and viruses on your shoes! Just use the disinfectant of your preference and start moping, for peace of mind.
Disinfecting high-touch points
Speaking of prevention, every home has its own high-touch surfaces that you or your maid need to clean regularly. Doorknobs, faucets, light switches, keyboards, counter and dining tables, all these touchpoints tend to accumulate germs, and even viruses because everyone grabs or use them. eMaids offers a practical and fast disinfecting service that covers all these areas for your safety.
Of course, your entry rugs have lots of dirt and germs to clean off. This summer, wash your rugs regularly and make sure your entrance is sanitized as your home's interior.
Next time you book a cleaning service, be sure to consider these cleaning tasks. If you want eMaids to visit your home and clean, please schedule your house cleaning service on our website.