If you want to sell your house quickly, one of the most crucial things you can do is make sure it is spotlessly clean, organized, and well-presented when showing it to buyers. This is why it's industry standard to have commercial cleaners scrub the house before listing it for sale.
Whether you plan to hire a professional cleaning company or do it yourself, the comprehensive cleaning checklist provided below can be helpful in preparing your home for sale.
1. Declutter and Depersonalize
Decluttering and depersonalizing should be the first order of business when preparing your home for sale. Remove any excess items lying around that aren't necessary for everyday use, including furniture and personal belongings.
Apart from making your home appear more spacious and open, decluttering and depersonalizing can also help potential buyers visualize themselves in your house.
2. General House Cleaning Checklist
Common cleaning tasks when preparing your home for sale include:
Clean light fixtures

Wash windows and doors

Vacuum the entire house

Remove the cobwebs

Dust blinds and curtains

Empty trash

Polish all metal fixtures

Sweep and mop floors

Clean air vents

Wipe down baseboards and molding

Polish mirrors

Clean the walls and baseboards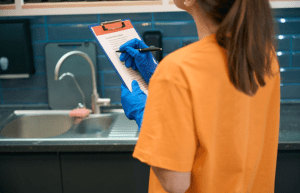 3. Room-by-Room Cleaning Checklist
A room-by-room cleaning checklist might include tasks like::
Living/ Dining Rooms
Dust all surfaces

Clean rugs and wood flooring

Vacuum thoroughly

Steam clean furniture and carpets
Bedrooms
Clean draperies and blinds

Make up the beds

Clean the walls

Dust surfaces, including dressers and nightstands

Clean bed linens, comforters, and pillowcases

Organize the closets
Kitchen
Clean and disinfect all surfaces  

Wash countertops

Clean the dishwasher

Deep clean the oven

Fix dripping faucets

Clean and organize cabinets

Scrub sinks

Clean refrigerator
Bathrooms
Clean mirrors and windows

Grout or replace broken, missing, or cracked tiles

Scrub the shower and bathtub

Remove mold and mildew

Clean countertops and drawers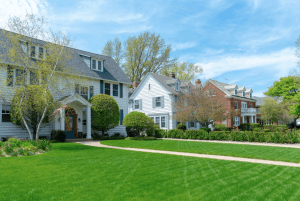 4. Pay Attention to Curb Appeal
The curb appeal of your home is the first thing buyers notice. These steps can help ensure your exterior is clean:
Clean the patio or porch

Get rid of oil and grease stains on the driveway

Clean the gutters

Remove any debris from the yard

Clean the outdoor furniture

Clear the garage

Mow the lawn

Pressure wash exterior walls

Clean the window and window frames
5. Tips for Pet Owners
Having a pet at home might be great, but they can make a mess and leave behind odors. Top cleaning tips for pet owners include:
Clean and disinfect pet cages and litter boxes

Eliminate odors

Remove pet hair
6. Hire a Professional Cleaner
As you can tell from the checklist above, preparing your home for sale is no walk in the park. Moreover, you may not have the time, tools, or experience to carry out the tasks adequately. That's where hiring a commercial cleaning company comes in handy.
For instance, people in or around Washington, DC, hire eMaids, a premium cleaning service employing the latest cleaning equipment and fully trained maids, to ensure houses are ready for viewing by potential buyers.
Conclusion
A clean home is not only appealing to the eye, but it also allows people to picture themselves living in the space as they tour it. You can prepare your home for viewing and selling by decluttering and checking all the boxes on the cleaning checklist above.
If you live in or around Washington DC, don't break your back. Let eMaids provide a helping hand. Get a quote today to get your house ready to sell fast!