The level of tidiness at home says a lot about your personality. It is the reason why people make a deal out of cleanness. If you look untidy and disorganized, people get the picture that your home is as good as your personality. Even though people may want to clean their homes and keep everything in order, time just happens to be a constraint. A person may plan to clean his or her home on a certain day and end up procrastinating uncontrollably.
Fortunately, you do not have to struggle with procrastination because there are cleaning companies that can clean your home when you are present or away. Cleaning services come at a fee. In that case, you have to prepare your mind for budget change. Home cleaning services are vital because they help keep your house sparkling clean when you are too caught up with work.
Cleaning options available
Home cleaning companies offer different packages depending on personal needs. These packages go at varying prices. In that case, you may have general home cleaning and special home cleaning services that deal with particular parts of the house. Special cleaning covers areas such as bedrooms, living rooms, bathrooms, and kitchen spaces. Here, the homeowner is required to give out specifications regarding cleaning before getting the services. Therefore, you need to know what you exactly want for your home before hiring cleaning services.
Special cleaning services may cost a little more than general home cleaning. General home cleaning covers the entire house and does not require special attention. Special cleaning requires perfect skills. For instance, cleaning a bedroom with a carpeted floor or wood-carpet requires caution. By inspecting your home, you can tell whether it needs general cleaning or special cleaning. Your option will determine the amount of cleaning fee you will pay.
Hiring cleaning services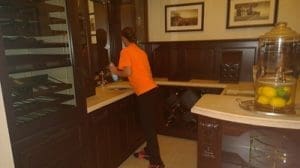 It may be somehow hard to find the best cleaning company especially if you live in a city. Cities tend to have many businesses offering the same services with varying service quality. Some companies offer top-notch services while others offer poor services. Consequently, it is important to do as much research on cleaning companies before hiring. This involves looking out for a company's history in the cleaning industry and the number of customers it gets annually. Annual customer turnout says a lot about a cleaning company. Good customer turnout is an indication that customers are fully satisfied with a company's cleaning services and want more cleaning services from the same company.
Cleaning package prices
There are different cleaning packages offered by cleaning companies. As mentioned earlier, packages may be either general cleaning or special cleaning. The price for general cleaning varies depending on individual specifications. While special cleaning may cost a little more than general cleaning, you may inquire about cleaning packages with fair prices. You can also compare prices for different company packages to see if there are options for negotiating price or even discount offers. At the end of the day, you need to be sure about quality services that are worth your money. For general cleaning, you may consider economy cleaning in NYC. VIP cleaning services fall in a special cleaning category that costs a little more. Find the best quote and make the right choice for your home.
Cleaning payment options
As regards payment for home cleaning services, you can make payments through the bank or pay with cash through your phone as long as you have the business pay-bill number. You can also pay online using online pay-cards. Some companies offer great discounts when you choose to pay online. Overall, different companies apply varying schematics to awards discounts. For instance, a cleaning company may give over 10% discounts for clearing the upfront. The remaining balance will have its due date. Considering payment options is a way to save money. Therefore, find a suitable payment option that will save you cleaning costs and time.
The days that you had to worry about the condition of your home are over. A tight schedule can no longer stand in the way of home cleaning. The cleaning industry has gone to another new level. You can receive professional cleaning services while present or away from home without having to worry about security.
If you think about your tough schedule that lets you barely breathe, you will appreciate cleaning services. You will not have a problem adding the cleaning cost to your budget list. You can quickly find the right company by searching online and checking customer reviews before making a judgment. Even more, you can pay a visit to your preferred company just to be sure about its services. If you are interested in saving from cleaning costs, you will have to consider the payment options offered by a cleaning company. You may be surprised by the amount of money you save from a particular payment option!