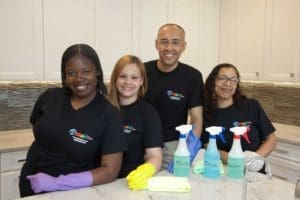 If you have thought about hiring a NYC maid service in the past but you don't quite know whether or not you should, then it helps to take a look at the benefits before you go ahead and make your decision. A lot of people task themselves with the job of cleaning their home on a weekly basis and the whole process can take hours in some instances. On top of this, the last thing you want is to clean your home when you have been at work all day and this is especially the case when you have kids.
So if you are one of those people and you want to do everything you can to make sure that your home is as clean as possible then why don't you hire eMaids inc. - an NYC maid service? Your maid will be able to work around your schedule and they can also make sure that you are always more than satisfied with the service you have received. eMaids- an NYC Cleaning service can also assist you if you can only get your clean done on certain days of the week as well and this is another major benefit of hiring them to take care of the cleaning for you.
In fact, eMaids – the best maid service in NYC will provide you a free quote for the first time cleaning job and a discounted rate for weekly maid service or biweekly cleaning service, so not only do you save money, because you can also put your feet up at the end of the day and without any worries about your home or the cleaning that needs to be done.
Contact the best NYC maid service – eMaids inc. today and see how we can help you to get the result you need from you clean?
Where and How to search for a cleaning service in NYC?
1 Google How its best to search on google: You can type in cleaning service NYC or Maid service NYC or home cleaning NYC and if you are a office, you can type in office cleaning service NYC after you typed in a keyword you can look on google maps or organic search underneath or google ads on top
Other places to search for NYC cleaning maid service:
Yellowbot.com