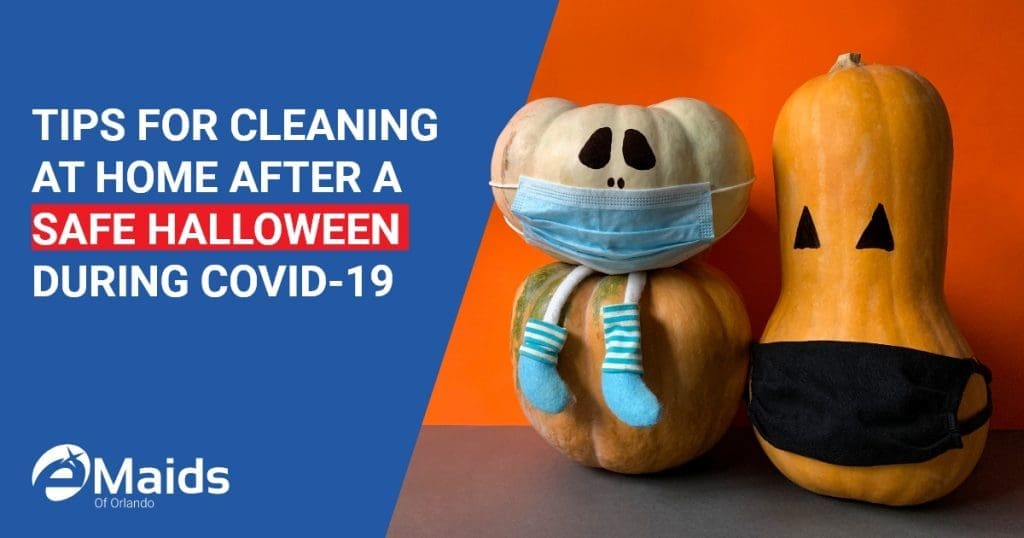 Everybody who celebrates Halloween in Florida is eagerly waiting for this year's spooky fun. Yes, Halloween is full of fun, but this year's festivities in Florida will be different, just like all other parts of the country. COVID 19 pandemic has made it necessary to observe heightened safety measures this year.
How to Stay Safe During Halloween in Florida
For you to clean your home after Halloween, you need to remain healthy and safe. You and your family must observe all the stipulated regulations recommended by the CDC and other health authorities.
All your family members must wear their face masks and keep the recommended 6-feet social distance every time they are engaged in the different Halloween activities.
Sanitizing their hands should be a must-do, especially when they touch objects. Of course, some traditional activities, though popular, will have to be shunned or done differently.
Take the famous door-to-door trick or treat events, for instance. Health authorities are recommending parents not to have their children engaging in this outdoor activity.
In a nutshell: Halloween will still be here, and the fun will always be around for everyone, but health concerns must be addressed throughout the celebrations. Your entire can remain safe and healthy to clean at home after a safe Halloween During COVID in Florida.
Tips for Cleaning at Home after Halloween
Halloween comes with many fun and engaging activities, but the aftermath can be quite messy. Be assured there'll be a lot of cleaning after the celebrations are over. The following tips will take the cleaning nightmare away from you.
Pumpkin Stains
Pumpkins are at the heart of Halloween, and everyone enjoys carving their scary pumpkins in readiness for the celebrations. However, the whole exercise can be messy. Pumpkins can cause stubborn stains that can cling onto clothes for eternity if no proper treatment is applied. The following step will help you get rid of the menace of pumpkin stains once Halloween is over.
Massage an enzyme-based penetrator into the affected material and leave it there for a few hours to get rid of the stain if it proves stubborn, massage in some laundry detergent.

Wash the item with water at the hottest temperature the material can handle without getting spoiled.

 

In case the stain remains, blot it with vinegar or alcohol/

 

Rewash your cloth at standard temperature and allow it to dry. Doing this will get rid of any awful smell that might arise from the previous steps.
There you are; by now, your fabric should be stain-free.
Removing Makeup from Upholstery and Carpet
Halloween makeup can easily mess your upholstery and carpet. When this happens, you can clean the makeup easily at home after the celebrations are over.
Using any right commercial carpet and upholstery cleaners, blot the stain starting from the outer edge and work towards the center.

Use a white cloth to wipe the stain away. The ingredients of the cleaner will get rid of the dye in a short while. But remember to test the cleaner first to ensure no color is transferred from the carpet to the white cloth.
Cleaning Egg Yolk
You don't want unsightly, sunbaked yolks staining your siding. Grab your garden hose and turn on the water, then spray above the eggs so that the force of the falling water washes the yolk away.
While these are some of the significant post-Halloween cleaning concerns, they are not the only aspects requiring thorough cleaning. So, at the time, you might feel overwhelmed by all the cleaning that you'll have to do. If that is the case, it's time to get professional help.
Professional Home Cleaning Services
If you need professional cleaning services at home after a safe Halloween in Florida, contact eMaids Of Orlando. These are experienced and competent cleaners who are always ready to help you get your home back in order after the upcoming Halloween festivities.