They say that the kitchen is the heart of the home. We believe this to be completly true. With that being said it is also safe to say that a lot of activties take place in the kitchen, aside from the preparing and eating of food. That is why the family kitchen table can easily get confused for a community desk. Has your kitchen table become the community desk for the entire household? If so, we have some fun organizing suggestions that might help!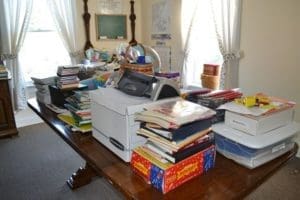 Look familiar? No problem!
There are several easy ways to organize these important papers.

The trick to eliminating the piled up paper clutter from your kitchen table is finding a small contained space that can hold a lot of paper. We suggest buying one large binger with file forder tab labels, or keeping a few different binders and labeling each binder by catergory and including file folder tabs within each binder, labled by month of the year. Deciding whether or not to keep on binder verses multiple binders depends on how much mail, bills and reciepts that are coming into the household.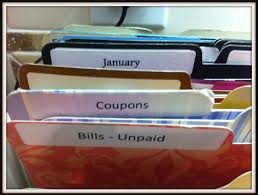 We suggest you label and organize your loose papers as follows.
Coupons
Menu's
Action & Bills (monthly bills due and paper work that needs to be filled out and sent out. For example: School permission slips.
Hold Folder (Items that only need to be held onto short term and can be thrown out eventually, without much thought.
At the end of each year, empty the contents of the binder(s) out and file it into a larger filing cabinet that you keep in area of the home where you have space. This way every year's paper work can be filed correctly and the mess can be eliminated over time.