When one of the coldest winters is recorded in your state's history, it takes quite a while for things to fully thaw out. Fortunately, warmer temperatures finally are starting to make permanent emergence in the weekly weather forecast. As a result, the snow has almost all but melted in most parts of the region. For homeowners and area business owners, this at last means reclaiming their buildings and parking lots from the cold grips of Mother Nature.
Extreme winter weather is known to wreak havoc on businesses and homes, in particular the parking lot, buildings, flowers, etc. Although new plants, flowers included have started to spring to life, home and business owners are still reminded of the winter damage left behind. The results of extreme winter weather include:
 --> Salt residue being left on your parking lot and sidewalks
--> New and often larger potholes forming in the parking lot
 --> New, sometimes larger cracks emerging in the building surfaces
--> Salt-stained and stiff carpeting in your building
--> Dirt, garbage and debris left behind from melting snow hills
To help an office or home owner create an all-inclusive spring cleaning checklist, here are some effective cleaning solutions for restoring your building after a particularly harsh winter.
Window cleaning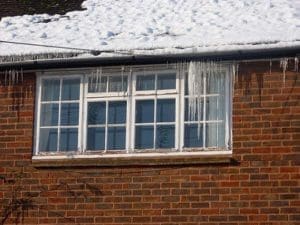 After a long and harsh winter of snow, sleet, and sometimes never ending rains, the windows in a building have taken a through beating. Windows are prone to trapping rock salt, debris and dirt from the snow. They often collect a layer of their own dirt, in particular if they are lower on your building. Low types of windows are prone to coming into contact with salt and all sorts of filth from the snow. That said, ensure to have the windows thoroughly cleaned so as to finally let in that missed spring light and warmth from the sun.
Park lot cleaning up or sweeping
As plows clear the snow off your parking lot in the winter season, they also drag all sorts of dirt, rocks and trash along with them across the pavement prior to depositing it all at the snow hill. Unfortunately, during the spring, all the snow hills start to melt leaving behind trash-riddled spots and dirt in the parking lot. The most effective way to remove the unsightly and potentially harmful debris is to sweep and then pressure wash the parking lot.
Pressure washing the parking lot
Once dirt and debris has been swept from the parking lot, it is now time to blast away the harmful salt rock residue. The parking lot is often covered with salt rock to help remove the ice; however, this product leaves behind a nasty white stain when over applied. To decelerate the rate of corrosion on the pavement and to thoroughly remove the ugly stains, Brooklyn cleaning services recommend using high-pressure and high-volume pressure washers.
HVAC system cleanup
After coming off a long winter, or what is referred to as a cold and flu season, the last thing that you need is to breathe in poor quality air, and that is full of allergens. These tend to worsen allergies for people suffering from them. With an unclean HVAC system, people inside a building are more prone to the effects of airborne pollutants and allergens. Remember that indoor air contains more contaminants than outdoor air. To help maximize the health of your family or of people leaving within the building, spring cleaning experts recommend a full HVAC system cleaning before the start of May.
Salt stains on your carpet
All that rock salt that was used to cover the snow during the winter season leaves behind unique stains on your carpet. How so, you might ask. Well, as you track in slush, dirt and snow from the parking lot, you also track in lots of rock-salt runoff. As the snow falls off your shoes it lands on the carpet and dries up, leaving behind some salt residue. This residue leaves the carpet stiff, damaged and quite unappealing. To improve the longevity and appearance of your carpet, it is recommended that you have it thoroughly cleaned, and all before the stains could set.
To learn more about the cost-effective commercial cleaning in spring, it is recommended that you sign up for free cleaning estimation from reputable home cleaning service providers in your area. This way, you won't have to throw away your prized but old and heavily stained carpet.  The main advantage of contracting and then hiring professional home cleaning services in Brooklyn is that their specialists are highly trained to carry out a wide variety of spring cleaning undertakings. They come armed with the right cleaning equipments and products that are needed to perform a perfect job. In simple terms, they have the cleaning solutions that are required to help clean a building and revitalize its appearance.