A good number of people are intimated by messy surfaces and see clutter as a deterrent. As a result, they allow things and dirt to pile up until their dwellings look something like a scene out of a reality show. Most of the others are simply too busy to tidy up or clean their homes. All this is quite comprehensible. The last thing most people want to do after getting home from work is to clean the house. Fortunately, there is a way around all this - hiring a professional maid service to handle the tiring house cleaning chores.
Creating a cleaning schedule for your maid service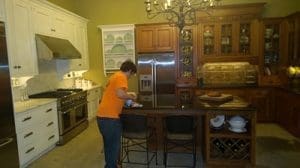 When drafting a cleaning schedule for the hired cleaning service, there are several things to consider. These include:
• How often you want the cleaning undertakings to be carried out
• The areas in your home you want to be cleaned more regularly than the others
• How long each cleaning undertaking will take versus the amount of time the maid service will be at your home
How often you require the maid service to come to your place largely depends on whether the people you are living with are allergic to your cleaning products, there is a pet, you live alone, you have kids in your home, and many other factors. How do you come up with the right cleaning list to suit your living arrangement then?
Start by identifying your home's cleaning requirements
Before scheduling your cleaning service for explicit intervals and tasks, it is crucial to identify precisely what requires cleaning in your home. The main list needs to take into consideration the cleaning tasks for every room including the study room, dining room, bathroom, kitchen, bedrooms, living room, etc.
Prepare a list that suits your budget
After creating a list of all things and activities in your home, identify the kind of cleaning that meets your preferences. For instance, would you rather have the maid service come on one single day and perform all the required cleaning tasks or have it clean a little every day?
Although it differs depending on a homeowner's wants, a basic home cleaning schedule can include the following:
Daily cleaning
This kind of cleaning is perfect for extra messy homes, possibly because of the small active kids playing around. If you opt for this option, allocate your hired maid service one to two hours of cleaning every day to get things in order. Also, remember to dedicate one day to weekly thorough cleaning tasks.
One room per major task a day
This cleaning type needs the maid service to apportion different cleaning undertakings to different days of the week. With this option, there is no limit on the amount of time the service may spend on a particular undertaking as long as it gets done. However, this depends on the kinds of services on offer, for instance, vacuuming on Wednesdays, laundry on Mondays, bedroom cleaning on Tuesdays, and so forth.
Timed cleaning
This kind of cleaning is ideal for homes that are not too messy. With it, cleaning is progressive, meaning that the cleaning service can dedicate one hour to doing specific tasks.
All cleaning in one day
This kind of cleaning is ideal for extra busy households, and the homeowner decides the specific day to do the cleaning in a given week. At this juncture, the homeowner knows what needs cleaning and what doesn't. All that is left is to schedule your cleaning team, taking into consideration the seasonal, monthly, weekly, and daily cleaning tasks. After all, what you are planning is to discover a great way to efficiently utilize a recurring maid service for your needed cleaning tasks.