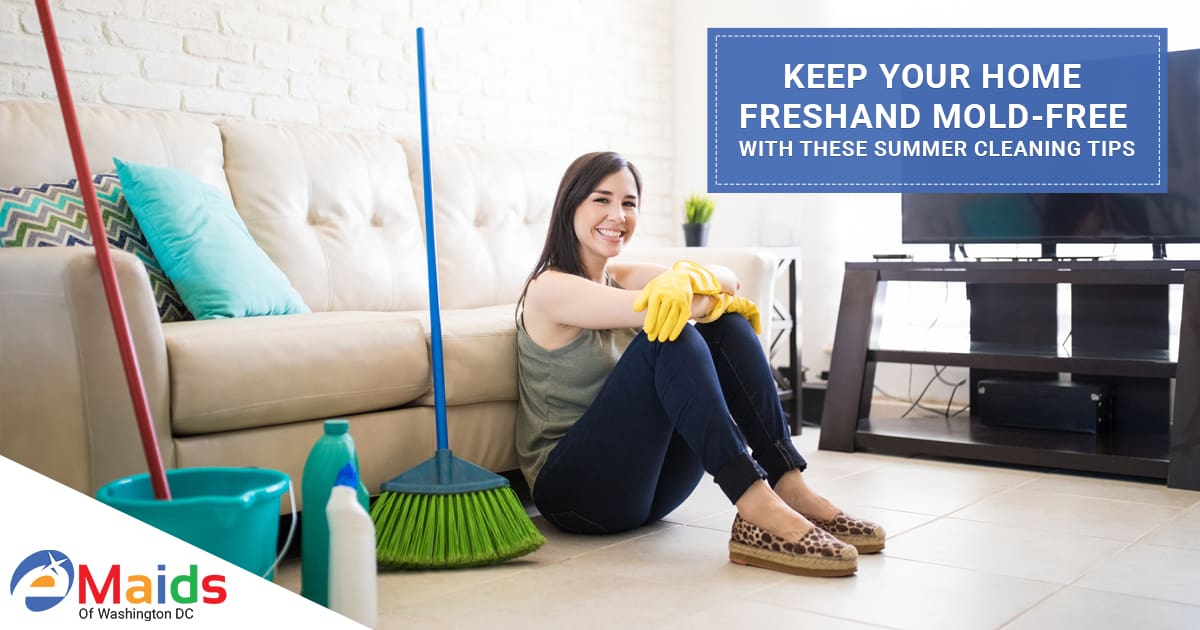 During the summer, there are some special cleaning tasks for every homeowner to do. Your summer cleaning needs to focus on maintaining a fresh environment, getting rid of the mold, and reducing the dust and insects. Check out these useful summer cleaning tips and also keep following the preventive measures to avoid COVID-19. Remember, we at eMaids are always a call or click away from helping you out with all these tasks! 
Mold comes uninvited to every home, creeping through the walls, feeding on the moisture that hot weather and sporadic rain shower will leave on your home. Preventing mold is easy in most cases: just let the fresh air circulate in your home. Open your bathroom window, use your air conditioner, and open doors and windows regularly, including those you might overlook, like the garage, closets, and appliances. If the mold persists, perhaps you have a leak somewhere between walls, so call a plumber!
Say goodbye to smelly trash
Hot weather makes the trash smell faster, doesn't it? Fortunately, there's a quick and fast tip to get rid of those bad odors. Make a mix of white vinegar and water and spray it on your trash bin and trash bag. Vinegar is a natural disinfectant and bad smell killer.
We love summer! (and mosquitoes too). Although they weren't common in the Seattle area some decades ago, global warming has made it possible for them to be seen in these parts of North America and they're starting to be annoying. These little fellas like to fly and buzz when the sun starts to hide and can't give you a real headache if you want to spend time in your yard. The solution? If you want a natural mosquitoes repellent, buy peppermint scent spray—mosquitoes hate the smell! You can also plant some lemon balm, basil, or lavender in your garden to keep them away the following year.
Spiders also wander around more in summer, making them cobwebs and trapping insects. In your garden, perhaps there isn't much trouble, but cobwebs inside your home can cause allergies. Also, cobwebs give your home a derelict look. Use a detachable vacuum cleaner to get rid of them, or just a broom
Clean your patio furniture
Summer yard gatherings are popular options for those people who want to meet their friends but keeping distance and fresh air between them. Stay safe by inviting a few people and making sure everyone has a clean seat. If your patio furniture is moldy or dirty, use water and dish soap and start scrubbing.
Most importantly, changing your air filter in the hot season is vital to maintain your home fresh and with good quality air. Your HVAC system keeps the warm temperature, the mold, and the allergies away, as longest your filters are clean and dust-free. Take your time to evaluate your air system and call a professional if you need any help.
What do you think? These safety tips for summer will help you maintain your home and perfect conditions during summer. We hope you spend some time with your loved ones, but remember to follow the preventive measures against COVID-19. If you want a professional disinfection or cleaning service, contact us on our website. Have a nice day!