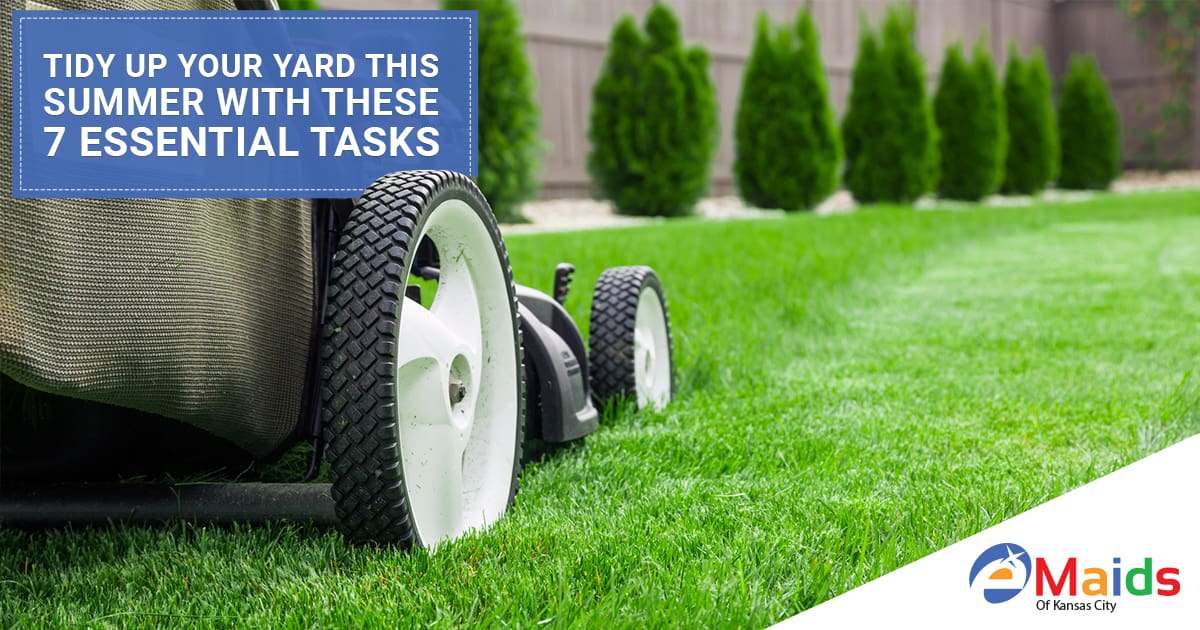 A semi-lockdown summer is here, and many homeowners are planning some quick and safe vacations, while others stay home and do home projects like a summer yard clean up. Keep reading this block to learn the essentials for your garden and yard, for your pleasure and also for small gatherings. This shortlist comprises basic tasks like pruning, and others often-overlooked like getting rid of mosquitoes and washing away mildew from the furniture.
No good yard cleaning starts without getting rid of every clutter and debris. Fallen branches, pet messes, and anything spoiling your lawn must be picked up and toss away. As a quick tip, wait until your grass is dry to starting raking leaves. This way, you won't tear grass from the roots, making patches in your lawn.
Heavy traffic and pet waste tend to ruin the grass, leaving some ugly patches that you need to cover. Buy some good quality soil, sprinkled over the damaged area, and add grass seed and fertilizer. Keep the spot moist for better results.
If you let your garden without care during winter or spring, surely it's all overgrown by now. Having tall grass can attract numerous animals and plagues, not to mention it simply doesn't look good for the neighbors and you.
Pruning gives more life to your plants, and also it makes your yard look great. Cut all those dead or diseased branches or anything that is encroaching on traffic areas like pathways. Any plat that is overgrown tends to block up water and sun from other smaller plants and also for itself. So, maintain your garden healthy and inviting by pruning.
Wash and remove mildew from furniture
What's the use of a beautiful garden without some comfortable seats to appreciate it? Take care of your old furniture like chairs and tables with a quick cleaning session. First, check if there aren't rusty parts in metallic surfaces and also lookup for mildew. Use dish soap and water to remove dirt and a mix of bleach and water to eliminate mold from any surface. 
Yards without paths are small forests. Clean up yours or make a new one with ceramic or stones just to create the barriers. Building a proper path might take some time, but you can start with that for a change. Plus: your next gathering will have defined trails to walk without bumping into someone.
Get rid of mosquitos and plagues
Speaking of gatherings, mosquitos are the most annoying thing to have in the afternoon, when the little flying foes are circling everyone heads. Besides using mosquitoes repellents, eliminate any puddled water, mosquitoes' favorite habitat.
We hope you like this shortlist for your yard. We'll keep posting more homeowner tips for summer in future blogs, so continue reading if you want more useful hacks! Also, if you're interested in a home cleaning and disinfecting service, please contact us. Book your service online.