Although a sparkling clean home smells great, keeping it well maintained can be an uphill task for a majority of homeowners, especially if they work full time, or have very young kids, or both. As a result, most busy homeowners hire professional home cleaning services to help make their lives easier and lower their stress levels.
Who is a professional home cleaner?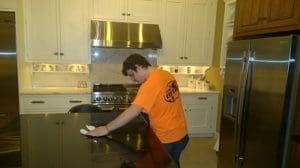 A home cleaning professional is an individual or a team of cleaners who come to your premises on scheduled time or days with proper cleaning equipment, products, and supplies. They are normally in your home for a specified duration of time and take their supplies with them when leave for their next cleaning appointment. A good example of these kinds of cleaning services is the work done by New York maids.
What can a homeowner expect after hiring a New York maid?
There are a wide variety of benefits that a homeowner can get after hiring a professional cleaning service. These include:
• Interior window cleaning
• Vacuuming and mopping hard floors
• Dusting light fixtures, picture frames, doors, baseboards, trim work, etc.
• Thoroughly cleaning and sanitizing restrooms from top to bottom, including polishing chrome, drain and sink opening, showers, tubs, toilets, and much more.
• Vacuuming carpets and upholstery
• cleaning chairs and tables
• Meticulously cleaning and sanitizing kitchens from the bottom to the top, including the knobs and handles, plate covers, light switches, backsplashes, sinks and drains, countertops, exteriors of appliances such as refrigerators and stoves, exteriors of drawers and cabinets, and much more
• Deep cleaning surfaces such as floors, toilets, tubs, sinks, countertops, appliances, and much more
As clearly shown above, it is very beneficial to hire a maid service to help with your home cleaning tasks.
House cleaning service charges
New York maids typically set house cleaning charges either by the hour or by the square foot. The average hourly rates range from $20 to $40. Square foot rates are normally used for a "first clean", or as a baseline for professionals to work from. First cleans are typically more pricey as cleaners require to determine the amount of time they will spend in a home, and if any rooms need extra work, for example, a large play area, a family bathroom, and the like.
Cleaning rates also vary based on how often a homeowner wants the professionals to clean. The more times a cleaner comes in any given month, the lower the price per visit. Some cleaners offer a discount if a homeowner is willing to sign a long-term contract or pay for multiple visits upfront. However, note that the cost of maid service in high-end suburbs can range anywhere from $50 to $150 per hour. Nevertheless, a homeowner might be able to find a budding cleaning service that is advertising its cleaning abilities and charging slightly less than the above rates if he or she knows where to look.
The homeowner must keep in mind that lower prices do not always mean the best level of services. To go around this issue, it is suggested to acquire a list of available services and compare them with the actual needs to get something that suits all your requirements.
Are cleaning services a necessity?
A professionally cleaned home is cannot be considered as a form of luxury and is something almost all busy people can't afford to do without. With the weight of home cleaning lifted off a homeowner's shoulders, he or she can then focus on other areas of his or her life and breathe easy knowing that at least his or her home will be in order. So we can comfortably say that hiring a professional to help clean the home is a necessity and not a splurge as some people would want us to believe.