In the office, employees can be too engaged, particularly on busy days, and when there is too much pressure from their employer or a client. When the mind is fully occupied, little attention may go to certain factors such as office cleanliness. Though many offices encourage employees to ensure their work environment is clean, they may not always be in a position to carry out effective office cleaning. A clean office is the surest way to protect the health of your employees. Therefore, you need to look for better alternatives for office cleaning. There are office cleaning services offered by specialized cleaning companies. These services cover the following areas in the office to keep the workplace free from disease-causing organisms.
Workstation
Workstations may have desks and tables. If you think you work in a clean place, well, you are wrong because desks, seats, and tables happen to accumulate dirt. The funny thing is that people barely pay much attention to their desks. Everything that your hand touches from the mouse to the keyboard, desk to the printer carries germs. This explains why you can catch the flu or cold even after visiting the doctor. You can acquire services for office cleaning in New York to have the entire workstation disinfected.
Washroom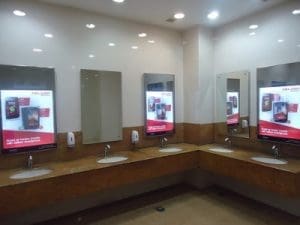 Washrooms are among the dirtiest places in the office. A good number of people agree that toilet seats are dirtier. Still, you do not have to touch the toilet seat to get germs. When you touch soap dispenser, doorknobs and faucet handle, you can get germs. Therefore, it is important to ensure that the doorknobs, soap dispensers and faucet handlers among others are thoroughly disinfected during washroom cleaning. Proper washroom sanitization will help reduce the rate of sickness in the office significantly.
Office kitchen
The office kitchen needs to be clean throughout. Here, the employees prepare food and eat it. If the office kitchen is left untidy, you are likely to end up with a workplace full of sick workers. Sickness affects productivity. Therefore, the kitchen should always be cleaned. Sinks should be cleaned after use. All the countertops should always be dry. Most disease-causing microorganisms thrive in moist places. In addition, coffee makers, faucet and cabinet handles should be properly sanitized to reduce the risk of infection. With a clean office kitchen, employees can eat anything without worrying about infections.
Office lobby
The office lobby is one of the places with high traffic. This means that it is very vulnerable to bacteria and other disease-causing microorganisms. Lobbies have quite a number of fixtures. Cleaning and sanitizing these fixtures is one of the ways of effectively reducing bacteria infestation. The lobby is also the place office visitors and potential clients wait before being served. If it is untidy and poorly maintained, it will send out a bad impression about the business. Therefore, cleaning the lobby is a solution that kills two birds with one stone.
Office elevator
If you thought the elevators were clean, you need to think again. Elevators also carry many germs. Elevator buttons, for instance, are the dirtiest parts of the elevator. This is because different people press the elevator button when they want to navigate up or down an office building. The best way to reduce contact with germs when pressing the elevator button involves using a pen or a key for pressing. This will keep your fingers from getting germs. Moreover, cleaners also pay attention to elevator buttons as well as the floor for proper cleaning and sanitization. Clean elevators reduce sickness in the office.
Getting cleaning services
It is important to acquire cleaning services for the office. Your employees cannot do all the office cleaning work apart from their usual work. In fact, their stipulated working hours only allow them to accomplish a certain number of tasks every day. This is the reason why you need to hire office cleaning services. Professional cleaners who know everything about dirt and germs deliver these services. The workers focus on key areas where germs and other harmful microorganisms exist. When the office cleaning is done, you are left with a clean and tidy environment where employees can work without fear of getting sick.
Remember, cleaning the office is important. It keeps your employees from catching all manner of diseases that may hinder them from coming to work. When employees fail to show up at work, it always affects the productivity and the progress of the business. Therefore, having a clean office is the surest way to maintain good business performance. Hiring cleaning services from cleaning companies is not a hard task. All you need to do is find a cleaning company through online search or a recommendation from other businesses. When you hire cleaning services, you will be putting the interest of your employees first. So, when employees feel appreciated, they will increase work productivity and help the business soar higher!