To maintain a clean and organized home, it's necessary to do some chores daily. This is particularly the case for common spaces like the kitchen, living and dining rooms which are high-traffic areas. These zones are also the 'face' of the house in that they're typically the spaces that are shared and seen by visitors to your home. 
Getting the Basics Right
While some time should be spent performing tasks in some spaces every day, speed cleaning will suffice for most days. Deeper cleaning can be scheduled weekly and monthly when time and other obligations allow it.
30-Minute Speed Cleaning for Busy Days
It is possible to get your home looking clean and tidy in just 30 minutes but only if an effective cleaning schedule is being followed. Daily speed cleaning can be done in the morning before heading out for the day or later, before turning in for the night. This is particularly important for households where both partners work all day or work on shifts.
The following tasks can be completed in 30 minutes:
Pick up toys, throw blankets and other items and put them in their designated space. When the living room is clear, fluff up pillows and prop up the cushions.

Unloading the dishwasher and running it to clean dishes used during the day. 

Wiping down surfaces. This would be the kitchen and/or dining tables, kitchen counters and bathroom vanities in kids' bathrooms, which will typically have hand soap and toothpaste on them. Giving the toilet bowl a quick clean helps keep it clean and a quick rinse of the bathtub makes it ready for the next use.

The floors in common rooms need attention. Cut the time spent vacuuming and mopping by using two-in-one machines that do both at the same time. You might also consider investing in a robot cleaner. These are available in vacuum-only options, and those that vacuum and mop. The best models don't need to be emptied for months and are self-cleaning. They're digitally controlled and this can be done remotely to clean selected areas on a schedule. All floors need a deeper clean, which can be done weekly.

In bedrooms, making the bed, picking clothes up off the floor and getting clutter off bedside tables makes it look neat.

Finish with a generous spritz of air freshener or light up a scented candle.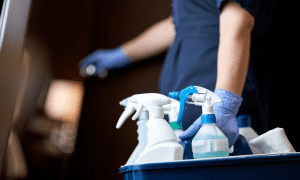 Hello Maid Service, Goodbye Dirt and Messes
Despite the best efforts and having a cleaning schedule, keeping your entire home clean and organized can be a challenge for a variety of reasons, such as the arrival of a new baby, caring for the elderly or someone with special needs, or having a demanding job. Whatever your struggle, you can still have an immaculate home; just leave the job to a professional cleaning service.
Conclusion
If you live in Volusia County or surrounding areas, eMaids is who to turn to for both residential and commercial professional cleaning services. Apartment cleaning and house cleaning can be done hourly, weekly, bi-weekly or every two weeks depending on your needs and preferences. Deep cleaning can be done monthly and/or seasonally. You can view all the particular tasks handled under each service online. Additional services like laundry and organization can be handled for a minimal extra charge.
This crew is made up of cleaners who are rigorously vetted before undergoing intensive in-house training. They are taught how to act with decorum when interacting with clients and to clean different surfaces safely and most effectively. You'll be glad to know that all eMaid staff are bonded and insured. Should there ever be a problem, a resident account manager is available to handle it. 
Conveniently book the cleaning service you want online. If you have any questions or concerns, you can always get in touch. Just enter your zip code to find the location nearest you. A clean home is a promise, and now, one less thing for you to worry about.